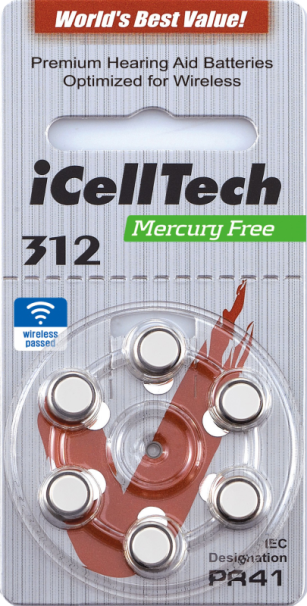 Replaces : S312A, L312ZA, 312A, AC312E, 312SA, R312ZA, ME7Z
Click here to see the Engineering Data Sheet in PDF file

(312DS)

"Nothing better than

icell hearing aid batteries

- the battery with Ultra Power."
Description


Other features of the 312DS(PR41) hearing aid battery include:
Tri-lingual (English, Japanese, Korean)

1.4 volts of high powered zinc air
Standard package includes 6, 8, 10, 4 batteries per pack
6 packs per inner carton.
Brown color coding

Specifications
EAN Code: 8809052731670
Product Size : 3.45 × 7.82(mm)
Weight : 0.53(g) / Per Cell
5.8(g) / Per Pack
Assembled Country of Origin: South Korea
Components Country of Origin: South Korea

Safety Requirements:
Warning: Keep away from small children. if swllowed,
see doctor or call (202)625-3333 immediately. Do not dispose of
battery in fire. Battery may explode if reacharged or disposed of in fire.